November 25th 2014 - February 21st 2015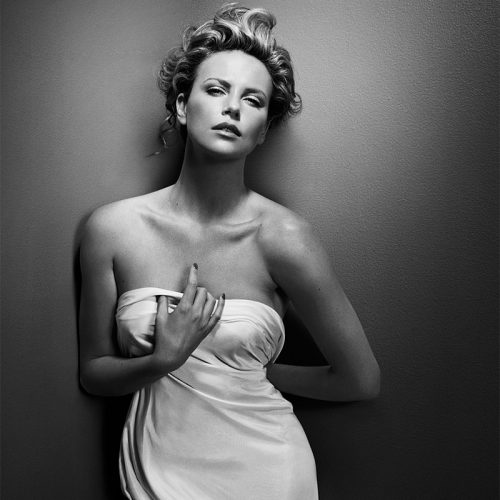 Vincent Peters
What is now the 20th exhibition in Atelier Jungwirth shows beautiful and famous people largely as God created them. Vincent Peters, the German photographer, has himself become a star through his work for the major fashion magazines and for names such as Dior, Louis Vuitton or YSL. The list of those he has put in the limelight is indeed imposing. His photos of Cameron Diaz or Laetitia Casta hit the media as did shots of David Beckham, the football pop-star as a wild fighter after battle. Peters fosters a particularly friendly relationship with Monica Belluci, to whom he dedicated the book "Monica and Vincent".
The beginnings of the star photographer were, however, rather difficult. Peters was expelled from school and life was challenging for many years. A medium format camera, which he still has today, gave him security and support. In an interview he once said, "Digital art is not my art". After working in New York, he moved to Paris where he experimented with analogue photo techniques. Nowadays he says that unfortunately they can now be imitated easily using a computer.
The special lighting moods in the German's photos are reminiscent of the major years of classical Hollywood cinema. The magazine "Professional Photographer" called his work "Cinematic, sexy and very distinctive". He thinks that the old black and white films which he often saw on German television as a boy are partially responsible for the particular look of his photos.
The new volume "The Light between us" featuring Charlize Theron on the cover and with about 150 photos inside is to be presented for the first time in Austria at the exhibition. Sales from the book will benefit a social purpose, the outpatients' department for protection against violence at the Charité Hospital in Berlin.  Two extraordinary special editions of this book are available for people with a large budget. They are in a limited edition of 100, are signed and include a print of either Cindy Crawford or Charlize Theron.
Contact
Should you have any further questions on Vincent Peters or our studio, please feel free to contact us here.
Shop
to the Shop
Press
Kleine Zeitung

December 2014

der photograph

December 2014

Via Airport

November 2014

Living Culture

December 2014

Digital photo

January 2015
Opening
Gallery
Partner