Photobenches
Concrete elements with mounted stainless steel brackets, both sides of which can be customized.
They can be used for exhibitions, as signposts, for advertisements, as information boards or also as effective barriers, both inside and outside.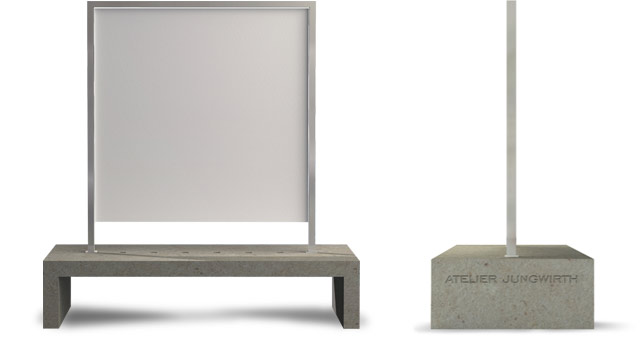 Technical details
Base area:
2 m x 1 m
Weight:
700 / 670 kg
Total heigh:
2.12 m / 0.68 m
Structural stability certificate is available
Photo panels
Size:
1.4 m x 1.4 m
The photo panels are Dibond aluminium composite sheets and can be printed using various methods.
COSTS
Costs for purchase and rental on request.
POLICY
The design and appearance of the photobenches are registered both as European Community design (006531687-0001) and Austrian Trademark (AM 11013/2019) and are the sole intellectual property of Christian Jungwirth e.U. Any use, exploitation or reproduction require the express written approval of Christian Jungwirth e.U.
CONTACT
Atelier Jungwirth
Opernring 12, 8010 Graz, Austria
T: +43/316/815505
mail@atelierjungwirth.com