October 16th 2012 - January 12th 2013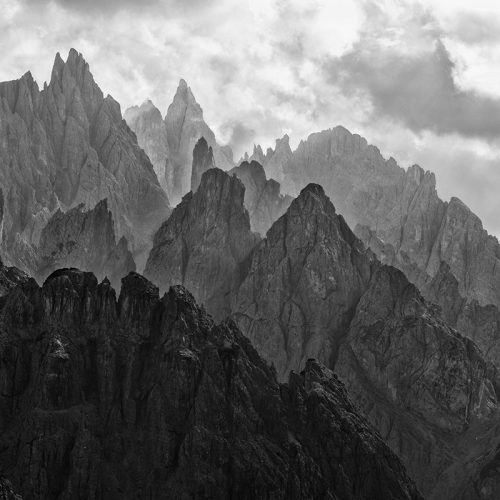 Peter Mathis, born in 1961, lives in Hohenems, Austria – that is, if he is not just travelling around the world to the most diverse locations, to capture his breath-taking sports and nature photographs. Since 1986, he is among the most demanded photographers in this department.
From 1998 on, he has won numerous prizes at contests and festivals from Canada to Italy. In 2007, he was awarded with the title of a Hasselblad Master in Sweden. In 2008, the Belgium-based Federation of European Professional Photographers awarded him Master of European Photography.
Peter Mathis has already released more than a dozen books; his newest work "Visual Dualism – Dolomites" is being presented as part of an exhibit at the Atelier Jungwirth for the first time. The exhibit in Graz will also be displaying nature photographs from the Dolomites, which Mathis has taken since 2009 particularly for this book.
"Peter is not a hunter for the 'pretty picture', not searching for a decorative scene or a spectacular moment. His aim is rather the core of nature, its essence and its beauty, which can be revealed in every single detail – if one can only see it," art historian Christiane Schmieger writes.
A picture is not simply the rendition of an instant, but the result of a careful dialogue of motif, light and surroundings. He explicitly refuses any later corrections or trivial playing around with photos. When taking photographs of athletes, he takes the utmost care that nature is not damaged in any way. Besides his landscape photography, taking portraits is becoming increasingly important in his work. It is noticeable that he has also developed a growing liking for black-and-white photography.
Contact
Should you have any further questions on Peter Mathis or our studio, please, feel free to contact us here.
Shop
to the Shop
Press
Die Steirerin

November 2012

Living Culture

November 2012

der photograph

October 2012

Kleine Zeitung

October 2012
Opening
Gallery