June 11th - August 13th 2022 and by appointment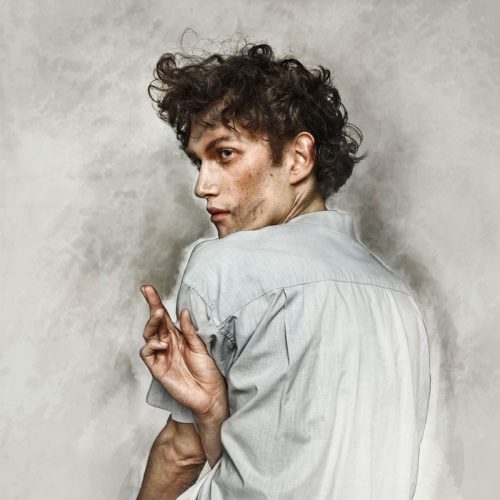 Born in Ried im Innkreis (Upper Austria) in 1968, Joachim Haslinger decided to follow his passion – photography – at the age of seventeen, after attending several art-oriented schools. A passion that has never left him and continues to drive him to this day. When talking and working with Haslinger, one quickly notices to what extent he is inspired by a deep love of the art and craft of his profession.
Haslinger started the Tribute to Egon Schiele project ten years ago. Schiele's works fascinated him even as an art student, the "intensity of expression" captivated the young photographer on several levels. Haslinger began to approach the subject of Schiele on huge canvases, always with the intention of paying homage, never with the intention of copying.
Haslinger invited carefully selected friends, acquaintances and models successively to his studio and photographed them in partly contemporary clothing, sometimes in vintage pieces but also in genuine turn-of-the-century clothing. He spent countless days researching suitable items in theatres, costume rental firms and film equipment and props companies. The range of clothing styles and accessories in his pictures is always intended, tattoos should also remain visible.
Conventional space does not play a role in Schiele's works. He usually reduced his models to an abstract environment to concentrate on their emotional expression. Haslinger recognized an invitation in the "spacelessness" in Schiele's works to search for these spaces within himself, with "mind, heart, soul, belly and loins". Tribute to Egon Schiele can thus be imagined as a journey into the inner spaces of the human being and of humanity. Spaces that are densely filled with a palette of emotional states and perceptions, which are important for Haslinger to trace and express photographically. Introversion and extroversion, constraints and fears, depression and emptiness, rapture and exposure interfere with affectations and extravagances, with eroticism and provocation, in an artistic universe that fascinates to this day and still seems to be expanding.
The photographer's joy in expressing these emotions and in the dense and intensive work with his models speaks from every single image in the series. In addition, the immense craftmanship and artistic quality is astonishing. At first glance the photos, most of which are extremely elaborate, often appear like paintings or drawings, only to reveal their photographic origin afterwards. It is as if only Haslinger's homage fully reveals the (photo-) realistic level of Schiele – and vice versa, only Schiele's expressiveness reveals that of Haslinger's works. It is as if they had been waiting for each other.
Wolfgang Kindermann
Contact
Should you have any further questions on Joachim Haslinger or our studio, please feel free to contact us here.
Shop
to the Shop
Opening
Gallery