October 4th 2011 - January 14th 2012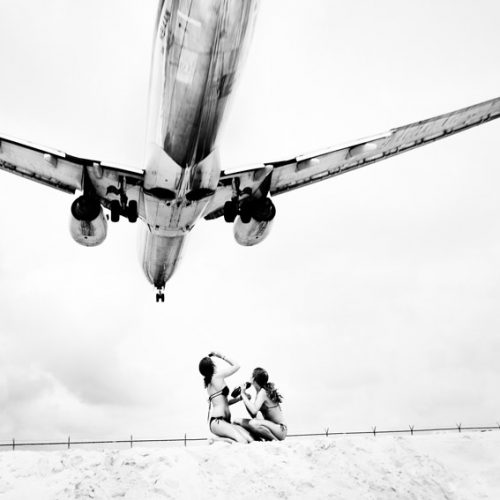 Josef Hoflehner – Master of Contour and Contrast
Born in Wels, Austria, in 1955, Josef Hoflehner is not a man of many words, much more he prefers to let his pictures speak. He acquired a camera at 20 years of age and soon began photographing and experimenting with more and more passion. After he completed a school for hotel management, he became a self-employed photographer. It was not long before he received his first awards, allowing for a realistic step for the pursuit of an artist's career. Since 2005, his minimalistic yet dramatic photographs of landscapes, architecture and objects have gathered much attention internationally. Never before have the rugged and forbidding, the brittle and appearingly insignificant details been as attractive and interesting as they are in the calm and concentrated discussions that Hoflehner depicts with landscapes, the skies, buildings or also in his series "Jet Airliner" with planes.
He was chosen as "Nature Photographer of the Year" in 2007. His photgraphs are mostly black and white, reduced to bare essentials and because of this, tremendously striking. They leave plenty of space for individual interpretations and invite for discussion. Hoflehner makes use of contrasts like no other, and it seems that only the one or the other exists in his pictures, the white and the black. "Josef Hoflehner takes a landscape and turns it into art," british journalist Elizabeth Roberts once wrote.
Hoflehner will be showing his much-praised photographs from his "Jet Airliner" series as well as 43 pictures from all parts of the world, beginning on October 4th at the Atelier Jungwirth. This will be the first exhibit at Atelier Jungwirth featuring works of an Austrian photographer – and, no doubt, this is a worthy premiere.
All pictures on display can be purchased.
Contact information
Should you have any further questions on Josef Hoflehner or our studio, please, feel free to contact us here.
Books on Josef Hoflehner: ZNZ (2011). Unleashed 3 (2010). China (2009). Jet Airliner (2009). Nine (2008). Li River (2008). Unleashed Two (2007). Iceland (2006). Yemen (2006). Unleashed (2005). Gegendum (2004). Frozen History (2003). Southern Ocean (2002)
Shop
to the Shop
Press
Kleine Zeitung

September 2011

Living Culture

September 2011

Steirer Monat Business

September 2011

SCHWARZWEISS

September 2011

Photographie

October 2011

freizeit Kurier

September 2011

Kronen Zeitung

September 2011

foto Magazin

October 2011

Sieben Tage - Kleine Zeitung

September 2011

der photograph

September 2011

Via Airportjournal Graz

September 2011

Kultur Steiermark

September 2011
Opening
Gallery