March 12th - June 6th 2013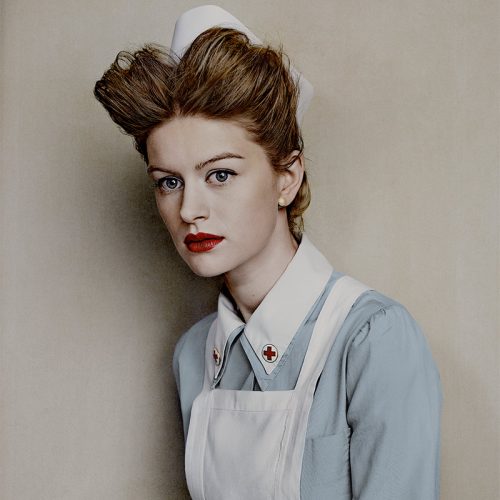 Billy & Hells
Anke Linz (born 1965 in Nürnberg) and Andreas Oettinger (born 1963 in Munich) joined as a photographer-couple in the mid 1980's under the name Billy & Hells.  Their works are just as inspired by old paintings as by classical portrait photography.  The picture language varies depending on the series, yet every photo is an unmistakable part of their total work of art.  At times, the models will coyly look to the side or the ground, then again outright and directly at the camera. Sometimes you can see the proverbially unadorned truth, then at another time, the makeup is hard to beat in its dramatics.  One element is present in (nearly) all of Billy & Hells photographs though: The silence, the earnestness. And yet the pictures reveal a subtle sense of humour.
The two play with familiar images in a virtuosic way.  Clichés like that of the nurse sporting a determined look, that of the strict teacher, or the gracious mother, the cool looking sailor or the casual cowboy are taken out of their frame of reference and placed into an entirely new context.  Not one detail is left to chance, not the colour, the clothing nor the orchestration of the photograph.
Karl E. Johnson wrote about their series "Blue Moon" in Eyemazing magazine, "The rich mélange of costumes, personalities, and stylistic elements (…) are as original as un-cinematic, the women as mysterious as accessible, and the visual details as ornamental as structurally essential."
The pictures of Billy & Hells, who have been living in Berlin since the year 2000, have been shown in Tokyo, London, in the Netherlands and in Los Angeles.  In 2007, they received the Taylor Wessing Portrait Prize of the National Gallery of London, an important moment for their international break-through.  The couple's name apparently came from the English pronunciation of the word "Billighotels."  If the legend is true, it delightfully shows the connection between cliché, unadorned reality and joke.
Rent a show
The following "ready to be hung" exhibition is available for further shows.
Number of pictures:
25 carbon prints on Hahnemühle paper, signed
Walnut frames with passepartouts, glass
Frame size: 
18 pcs. 93×123 cm
4 pcs. 83×68 cm
1 pc. 143×108 cm
1 pc. 113×182 cm
1 pc. 103×152 cm 
Further information:
Birgit Enge, Atelier Jungwirth, Opernring 12, A-8010 Graz
Tel. +43.316.815505, b.enge@atelierjungwirth.com
Contact
Should you have any further questions on Billy & Hells or our studio, please, feel free to contact us here.
Shop
to the Shop
Press
Kurier Freizeit

März 2013
Opening
Gallery