flashlight #1
February 19th 2011 - March 9th 2011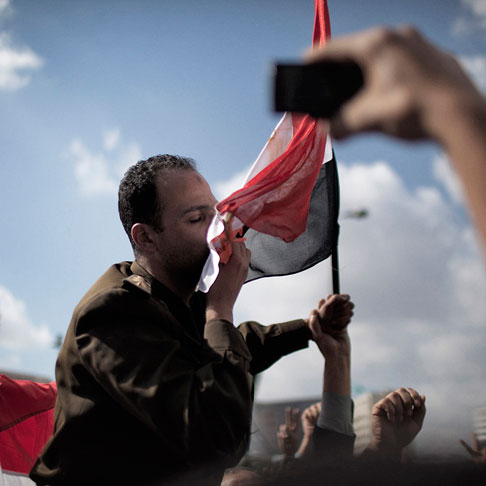 Our new series flashlight will display current news photos at Atelier Jungwirth, offering high quality despite their rushed and dramatic shots. The featured exhibits will be on display for one month each. As a worthy opening to this series, we are pleased to feature Marco Longari's Photographs of Cairo.
"We were in the midst of it, as they began throwing stones. We had no idea where we should go. We were in the absolutely wrong place."
These words came from Marco Longari shortly after the first demonstrations at Cairo's Tahrir Square. Yet it was the right place for his work. Fearless of stone showers and of the Egyptian army, Longari's photographs are a breathtaking documentation of a change no one had anticipated.
Marco Longari, born in 1965, works for the Agence France Press photo agency. He completed his education at the Istituto Superiore di Fotografia in 1999 in Rome. Shortly after this, his book "Nachbarn des Krieges (Neighbors at War)," in the "Edition Kleine Zeitung" appeared. In 2003, the AFP brought him to Nairobi as the chief of the photography department. Since 2007 he has been in charge of the AFP-office for Israel and Palestine. Marco Longari lives in Jerusalem with his wife and two sons.
Shop
to the Shop
Opening