May 16th - August 25th 2018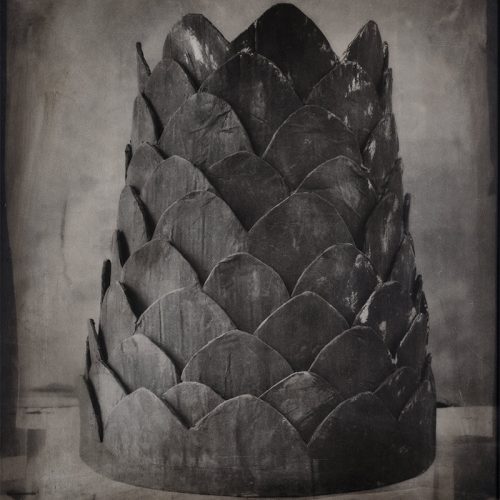 To describe the leading French artist Jean Michel Fauquet as a photographer would only be half the story. He is concurrently an "artist of light", illustrator, painter and sculptor and makes use of photography to achieve this.
Fauquet was born in Lourdes in 1950 and now lives in Paris. He has perfected his artistic philosophy over the past three decades. During his forays, he collects various materials such as cardboard and makes them into sculptures. He paints the photos of these objects with thin layers of dark oil-based paint. No two pictures are the same but all have, to some extent, an organic character. In addition to this sculptural art Fauquet also depicts landscapes and portraits – and these pictures use a very unique visual language, too. So, for example, with a few exceptions, the eyes of the people cannot be seen. In any case their faces are usually turned away or covered. Fauquet dispenses with the superficial fascination of looks or even of bare skin.
And something else sets him apart from many of his colleagues. While painters and photographers have always been fascinated by light and want to highlight it as intensively as possible, Fauquet appears to have succumbed to the fascination of darkness and gloom. Using long exposure times at low light levels with simple plate-back cameras and roll-film cameras the French photographer creates a world which appears to be an anachronism.
His pictures are so profound and spectacular that they have made it into the collections of major French museums. Furthermore Jean Michel Fauquet has published twenty books and catalogues so far, he has been involved in various film projects and over the past fifteen years has presented his photographs in solo exhibitions in France, Norway, Germany, the USA, Japan, Taiwan and in the Netherlands. And finally, it is now the turn of Graz…
Further information and pictures can be found at: http://jmfauquet.weebly.com/galerie.html
Contact
Should you have any further questions on Jean Michel Fauquet or our studio, please feel free to contact us here.
Shop
to the Shop
Press
Opening
Gallery
Partner