July 30th - October 26th 2013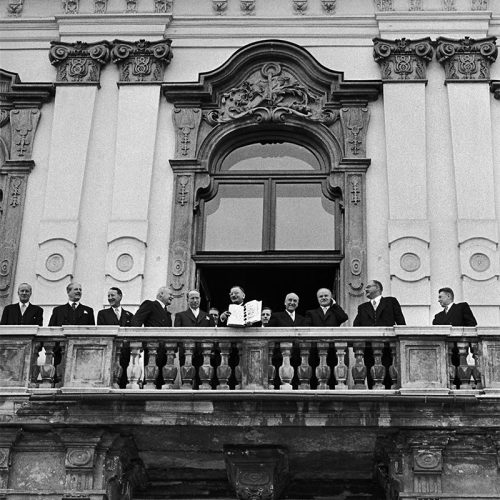 ERICH LESSING
Born in Vienna on July 13th, 1923 († 2018, Vienna), the son of a dentist and a concert pianist, Lessing was forced to emigrate to Israel in December of 1939, prior to finishing highschool, because of  Hitler´s occupation of Austria. His mother remained in Vienna and died in Ausschwitz. He learned radio technology at the Technion in Haifa, raised carp in a Kibbutz and drove a taxi among other jobs. He finally returned to photography, a childhood hobby of his, working as a kindergarten and beach photographer, later as photographer with the British Army.  In 1947 he returned to Austria, worked as a photographer for the American Associated Press and, in 1951, joined Magnum Photos, the world-famous photographer's cooperative. He worked chiefly for LIFE, Paris Match, Picture Post, EPOCA and a variety of other magazines.
Lessing has published more than 60 of his own art books with different international publishers. "Szene" about Burgtheater and Staatsoper in the Austrian State Press (one of the first books with color-photos), and such such classics as the history of Austria ("Imago Austriae"); he followed Homer on the Travels of Ulysses, did a history of the Jewish people ("Die Bibel"), the Italian Renaissance, the history the Netherlands, the Travels of Saint Paul, a history of France and many more.
In 1973, he was honored with the title of Professor from President Franz Jonas. For his coverage of the Hungarian Revolution he was awarded the American Art Directors' Award.  He received the French "Prix Nadar", the Dr. Karl Renner Award, the grand prize of the City of Vienna, the silver medal of the city of Vienna and the grand golden medal of the province of Styria. In 1997 he was given the great Austrian State Award for artistic photography.  He is an honorary member of the Künstlerhaus.
He has held workshops in Arles, Salzburg and other cities, he has helped to build up the chair of photography for the UNIDO in India, and has taught at the Higher School for Applied Arts.
Contact
Should you have any further questions on our studio, please, feel free to contact us here.
Shop
to the Shop
Press
Kleine Zeitung

August 2013

Kronen Zeitung

August 2010
Opening
Partner